You can rely on our real estate expertise
We do everything we can to optimise your property. Our knowledge, expertise, and know-how allows us to be imaginative and innovative in accurately assessing your needs while taking into account your circumstances.
Our experts in property management and real estate advice put quality service first. Creative and flexible, our team seeks out opportunities and solutions for each customer. Each time a step further. Besides our offices in Antwerp, Ghent, Brussels, Hasselt, and Rotterdam (the Netherlands), CEUSTERS has six other offices throughout Belgium. In this fast-changing world, our deep understanding of the local market guarantees continuity.
Organisation: The fruitful cross-fertilisation between Agency and Property Management
Both departments work independently within CEUSTERS, each focused on finding the best solution in your interest, both in the short and long term.
Our fields of expertise
Expertise in logistics, offices, and retail. We have extensive knowledge of all types of commercial property.
Real Estate Expertise. Our consultants have mastered the industry-specific real estate requirements.
Expertise in development. At CEUSTERS, we also offer support for new developments. From planning to successful implementation.
Network. We have built lasting relationships with partners in the logistics property market.
Consulting expertise. Moreover, customers can count on us for on-site personal consultancy services throughout Belgium.
Site-specific expertise. Our team of professionals will assist you in finding the most suitable locations for your business operations.
Marketing and sales expertise. Our dedicated team at CEUSTERS works extremely effectively and focuses on the target group. In fact, we use a wide range of marketing and sales tools.
Knowledge and experience as the foundation of fruitful cooperation
Optimising your real estate, providing strategic advice, guiding you in all your real estate needs… this is what CEUSTERS has specialised in for more than 70 years. We combine our experience with a contemporary, fresh vision of real estate and business. And this with a dedicated team of professionals ready to take on the challenges in the exciting world of real estate.
Our experts are innovative, creative, and flexible in how they work for you in property management and real estate advice and look for opportunities and solutions. And that with an excellent knowledge of the local market. Besides our offices in Antwerp, Ghent, Brussels, Hasselt, and Rotterdam (Netherlands), CEUSTERS has six other offices throughout Belgium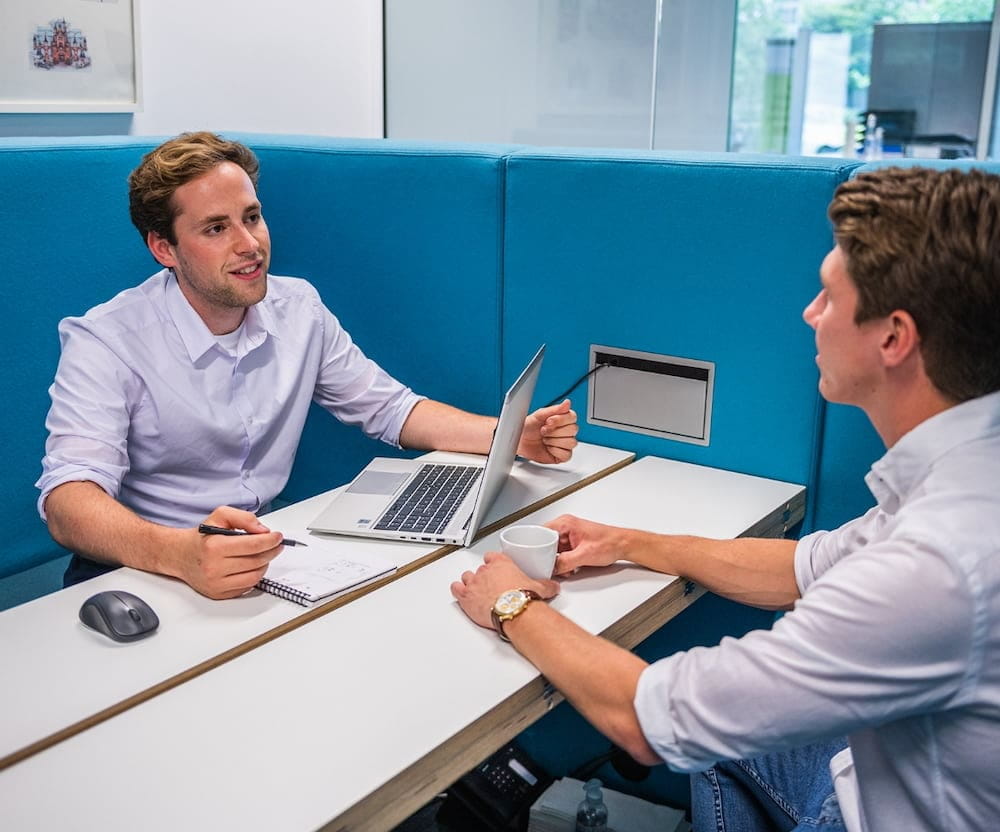 HR policy aligned with the latest developments in the sector
Our team of highly trained and motivated consultants will assist you with advice and assistance. Many are members of the Belgian Institute for Real Estate Professionals (BIV/BVI), UPSI-BVS, RICS, and SIOR.
CEUSTERS continues to expand its expertise by investing in accredited education and training courses as well as internal CEUSTERS Academy courses. Moreover, our consultants regularly participate in national and international conferences and trade fairs, such as Realty, MIPIM, MAPIC, Expo Real, etc. This ensures they are constantly up to date on the latest developments within the sector.
Sustainability and social engagement
In August 2021, CEUSTERS joined the United Nations Global Compact network. The United Nations Global Compact is a strategic initiative that supports companies worldwide that are committed to corporate responsibility and contribute to the Sustainable Development Goals (SDGs). For these companies, the SDGs are translated into an ESG strategy. ESG stands for Environment, Social, and Governance. These values have been firmly anchored in CEUSTERS' DNA for years. Nevertheless, CEUSTERS wants to intensify its efforts together with its staff and partners to go one step further and guarantee a bright future over the long term.
We support the mission of the United Nations Global Compact
History
Immobilien Hugo Ceusters was founded by the late Hugo Ceusters in 1943 as the first independent company in the market specialising in commercial property. As the years passed, unique expertise has been developed with passion and dedication and valuable relationships with various business partners have been built.
To strengthen its position and optimise its structure, Group Hugo Ceusters was created in a merger in 2013 with SCMS (Shopping Center Management Services), which itself was founded in 1991 as a management company of retail real estate. Following the acquisition in 2017 of Devimo Consult - a sector partner that managed an extensive property portfolio - the company was given the new and obvious name CEUSTERSin 2019.
A strong brand!
Meet our team!
Ronny Nuten

Head of Office Agency

Christophe Wuyts

Head of Industrial Agency

Vincent Gommers

Head of Valuation & Advisory

Christophe Ide

Head of Investment & Development

Dirk Van den Berge

Head of Facility Management

Guy Frans

Head of HR department

Toon De Meester

Retail Operations Manager

Hans Van Laer

Head of Marketing & Research

Bart Geeraerts

Head of Finance